General Data Protection Regulation (GDPR) - A Talk with Alvaro Hidalgo
HITEC Amsterdam Perspectives
By Mihaela Lica Butler - Reporter for Hospitality Net
13 February 2017
Continuing our interview series in anticipation of HITEC Amsterdam which takes place at the end of March (28-30) at RAI Amsterdam Convention Centre, we interviewed Alvaro HIDALGO, the Managing Partner of FIRST LOGIC Consulting and a respected Professional in the implementation of low & high contact traceability systems in Hospitality & Sports related facilities.
Hidalgo shared with us ideas and updates about General Data Protection Regulation (GDPR) and the impact the new law that will be in force in May 2018 will have on the Hospitality Industry. Adopted in April 2016, the law aims to strengthen and unify data protection for individuals within the European Union.
As far as hospitality is concerned, the new GDPR changes the landscape dramatically.
"The new GDPR expands all rights and freedoms of data subjects and provides new processes and procedures for companies to manage personal data," Alvaro Hidalgo told us in an exclusive interview. "In addition, these methods need to be proven, and businesses will be compelled to maintain records of the same. Therefore, a clear traceability model is now part of the obligations of the regulation."
Alvaro went on to explain that the new law implies the creation of new responsibilities and positions within a company, like Data Protection Officer (DPO), whose role will be to ensure that all data management within a business is carried according to GPDR. In other words, GDPR places the burden of proof with the company.
As such, new EU GPDR will obsolete the current management of data currently in place in most companies, where various departments collect the needed data and carry the custody in the way they deem appropriate.
While the EU GPDR includes significant legal changes (aforementioned "burden of proof," Codes of Conduct, Certifications, and Privacy impact assessments), the law focuses on the establishment of robust, consistent internal processes.
The new General Data Protection Regulation (GDPR) law requires a complete overhaul of all internal activities and processes that involve capture, use, storage or transfer of Personal Data, and as such, it affects not only IT and legal departments but all departments of any company.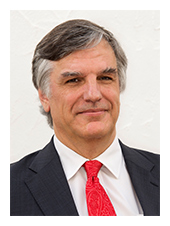 "So companies will have to assess ongoing processes and their compliance with GPDR. New procedures will be implemented, and training material and systems for all staff involved will be put in place. As I said, a complete overhaul," concluded Alvaro (pictured right).
While some may consider the implementation of the GDPR a major problem, Alvaro believes it is an opportunity for companies:
"Centralized and coordinated data management is the first step to using Big Data. The hospitality industry manages a large quantity of personal data, which means that it will no doubt create the conditions to exploit new avenues, to innovate services, and to provide new sources of revenue."
Planning for HITEC Amsterdam is in full swing with guidance from an advisory council representing eight European countries. The committee is chaired by Carson Booth, CHTP, and vice-chaired by Derek Wood. For the latest news, follow HFTP/HITEC on HITEC Bytes, PineappleSearch, Facebook, LinkedIn, Twitter (@HFTP) and Instagram (HFTP_HITEC). For more information about HITEC Amsterdam, contact the HFTP Meetings & Special Events Department at sales@hftp.org, +1 (512) 249-5333.
Global
Information Technology